Picture this: After what felt like centuries, you finally received a response to your job application. To your delight, the hiring manager has invited you to an interview!
Despite lacking the qualifications and skills sought for the job, you're enthusiastic. You work hard to prepare, getting interview tips, a new outfit and making child care arrangements.
On the day the interview, you're glowing with confidence and positivity regarding this position, only to be greeted by a cranky receptionist. Not the warm, welcoming hello you expected, but still, you do not let this discourage you.
You are next interrupted mid-interview when the hiring manager leaves the room to engage in a 10 minute phone call. Upon returning, he rejects you on the spot. No compassion, no empathy, no words of advice.
Completely torn down from this experience, you leave with nothing but an incredibly distasteful perception of the company.
Losing more than a candidate
The previous scenario was the experience of a Virgin Media candidate and long-term customer. Louise was so overwhelmed with a sense of defeat after her experience, she cancelled her subscription with the cable and mobile provider.
This experience was recorded by former head of Human Resources at Virgin Media, Graeme Johnson in a LinkedIn article, Bad Candidate Experience Cost Virgin Media $5M Annually – Here is How They Turned That Around.  Moving forward in the article, Johnson explains how he was intrigued by Louise's decision to cut ties with the company, which ultimately led to her family discontinuing their relationship with Virgin Media as well. He wondered how many others had this experience.
He uncovered an alarming statistic: 18% of rejected candidates were Virgin Media customers. Even more concerning, two-thirds of those rejected candidates were likely to recommend against the mobile provider's services.
Who can blame these detractors for taking their business to a different provider after enduring such disrespect? Why would you, as a paying customer, want to invest in a company composed of ill-mannered employees? People were not only turned off from working for the company, they ultimately did not want to be involved as a whole.
What's your candidates' experience?
This story, although specific to Louise, is not a unique one. Imagine how many loyal customers discontinue business with companies after a negative candidate experience every year. How about monthly? Imagine how much avoidable consumer loss occurs daily because of the issue at hand.
Johnson recognized this issue called for an urgent solution. He took the issue to the company's executives and urged, among other steps, that hiring managers be re-trained. It didn't take too long before the situation turned around.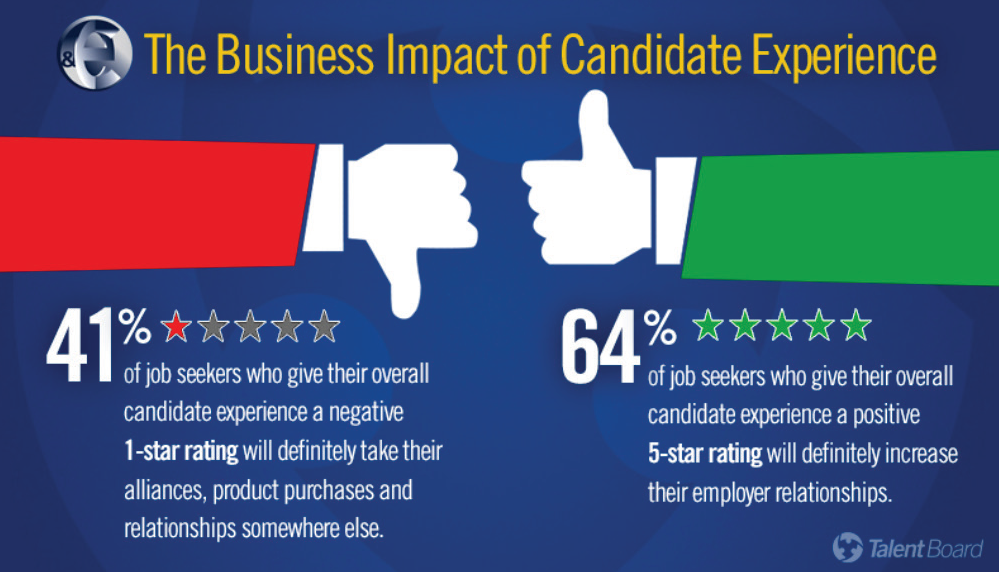 If you are a hiring manager or involved with the talent acquisition department in your company, it is paramount to know the effect a negative candidate experience can have on your company's financial status, reputation, and overall growth. And that's not to mention how many excellent candidates who will reject you or who won't even apply once they discover how you treat your prospects.
Improve your hiring experience
There are multiple steps an organization can – and should – take to improve the candidate experience and avoid the brand hit of even one avoidably negative experience. Five years ago, writer Kate Reilly wrote of her own rejection experience, coming up with a list of 16 tips for employers. Using her list, here's what you can do to make the selection process a positive experience.
The application
Candidates do not want to be left in the dark guessing what your company's expectations are and what the timeline for the application/interview processes is. "Put your process everywhere," Reilly recommends.
When you're not demonstrating clarity and transparency with your potential employee they may get discouraged, lose interest in the company or gain a negative first impression before you even have the chance to get the ball rolling.
Letting them know upfront what the process is and what they can expect at each step – and then making sure it happens – not only creates a favorable impression, it helps brand your organization as straightforward and supportive of candidates.
Communication
No one wants to be just another number in the system. They want to feel they are being viewed as a person and respected as someone who may be your colleague one day. This is why Reilly says, "Brand your emails – even the automated ones."
Sending emails to candidates is an essential part in the hiring process. Whether they earn the job or not, all applicants want to be informed of where they stand. Touching base with the candidate keeps them informed, and reassured they're application is actually being considered. At a time when quality people are so difficult to recruit, keeping them informed and in the loop may help encourage their interest in  working for you.
Another way to encourage them to remain engaged in the process is to provide them with access to informational resources such as blogs and videos and company news and events.
Interviewing
Every hiring manager and recruiter should show the candidate the basic courtesy of giving them undivided attention. That means no shuffling papers and certainly not taking a phone call. Beyond that, Reilly insists there is one question every candidate should absolutely be asked: "Is there anything you didn't get the chance to tell us today that you think we should know?"
This question gives candidates the opportunity to "wow" you with something you never thought to ask. It gives them the chance to reinforce and demonstrate the importance of something on their resume or background that didn't get fully discussed. This question shows the candidate you genuinely want to hear them out and gives them a last chance to make a favorable impression.
Prompt them, encourage them, and make sure they know you care.
Feedback
You're not sparing applicants' feelings with the generic, "We chose to go in a different direction" in rejecting a candidate you actually interviewed. In fact, you're doing them and your organization an injustice by not providing them with constructive feedback that would assist them in future interviews and positions.
The feedback doesn't have to be lengthy. It may be enough to tell them what skills they lack or areas where they were weak. This will allow them the opportunity to dive into training, workshops, and acquire the tools and skills they will make them a much stronger candidate for you in the future.
With talent as tight as it is today, encouraging an otherwise good candidate by providing them helpful feedback and staying connected helps build a talent pipeline for your next vacancy.
Even for candidates who otherwise aren't a good fit, letting them know that will keep them from guessing.
Remember, you want to make the experience as positive for the candidate as possible – even for one you reject.
I challenge you to remember when you were in the candidate's position. What would have improved your experiences? As the Virgin Media example shows, a negative candidate experience can have ramifications far beyond just an unhappy candidate. Treating candidates with respect, avoiding the dreaded black hole by keeping them informed and being as transparent as possible may save you more than just a bad review on Glassdoor.