We've all seen the scary headlines.
Artificial intelligence threatens the very foundation of work and society as we know it – predicted, as it is, to wipe out millions of jobs, and do so at a faster rate than the new jobs AI will actually create.
But what is the more likely situation – and more importantly than this, how will AI actually change what HR actually needs to do in businesses to prepare them for this future?
To help answer some of these questions, researchers at IBM's Institute for Business Value recently questioned more than 3,000 C-suite leaders across 28 countries as well as 22,000 workers across 22 countries.
Some of the topline findings were eye-opening to say the least – but perhaps not in the way you might have expected.
Because it claimed the most likely impact of AI on HR is likely to be something far more practical – a massive need for the reskilling of employees rather than preparing for their imminent departure.
It found AI will probably augment rather than replace people (according to 87% of leaders questioned) – but to get us there, executives surveyed estimate that a whopping 40% of their workforce will need to be reskilled as a result of accommodating AI and automation over the next three years.
As it starkly (and rather cleverly) summarizes: "Leaders are starting to believe that the enterprise of tomorrow may not be able to run with yesterday's talent, and tomorrow's talent may not be able to rely on yesterday's ways of working."
Gulp.
All of this sounds like a big headache for HR to get its head around, so what are the deeper implications of this research about AI for HR professionals?
And which employees do they need to start with first?
To find out, TLNT decided to speak to one of the report's authors, Jill Goldstein, IBM Consulting's global managing partner for talent transformation.
A new 'operating model' is needed for skills uplift
Goldstein says: "The big a'ha! moment from the research was that yes, reskilling is a priority, but it also needs doing alongside a new operating model too."
She says: "This requires companies getting their digital transformation right first, rather than working out where AI fits into their existing business model."
She adds: "Organizations are currently only crawling when it comes to this – which might be fine for now. But if they're really going to have to succeed, they need to entirely rethink the way the business operates."
Reskilling – but who?
The report says organizations must build a flexible structure that allows for skills evolution – by better understanding how jobs are done.
But a surprising finding was just who will be most impacted first.
The answer is not older generations – those less versed in technology – that will need bringing up to speed first as is commonly thought.
Rather, it is the younger, millennial staff who are already digital natives.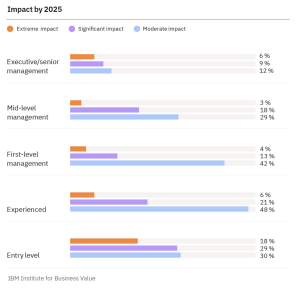 So why?
Well the answer is simple: "AI impacts next generation employees more because as we need to re-engineer the workplace, it is actually these younger, entry-level people that will need to pivot first into new roles," argues Goldstein.
She adds: "It's the new entrants that will need to be responding to new proposals. They're the most impacted group."
The new role of the CHRO
According to Goldstein, even before they starting determining the impact on skills, the modern CHRO needs to become the "advocate for responsible AI" – to "define and govern what responsible AI is within the business."
She adds: "This doesn't necessarily mean they need to do it on their own, but they do need to step up and have a stronger voice about the best way forward for the business.
"When 70% of CEOs think work will materially shift, HR must be there to help the change management efforts. It's for them to determine whether their leadership teams become fast followers or laggards."
Discovering impactful work
Goldstein argues part of this requires defining what is 'impactful' work – something the research found employees prioritize currently, but which is something executives are currently less focused on.
The data also finds most executives still think experience with the latest technology is what matters – which is what Goldstein doesn't think is desirable. This, she suggests is still akin to seeing where AI 'fits in' again, rather than looking at the operating model.
She says: "There's a lot to gain by asking HR to help define the organization's transformation strategy. When HR leadership and frontline workers co-create guiding principles, they can more effectively foster a culture of responsible AI focused on ethics, trust, and transparency."
She adds: "Defining target outcomes with both business and IT functions can help HR leaders assess how well they are aligning with the business and where they need to evolve."
Is HR up for it?
 Perhaps the biggest unanswered question is the extent to which HR is really up for this challenge – to be proactive change agents, or simply just be responders to change.
What should be comforting, says Goldstein is that employers are themselves very much up for the challenge.
"They're actually more interested in the possibilities of good AI than some commentators might think," she says. "If HR professionals can lead by example, and gauge the mood of the business, they will a better foothold in defining the change the organization needs."
She concludes: "The only way businesses will maximize the investment they plan to put into AI is if employees themselves have already challenged – and accepted – the benefit the technology can bring them."
She says: "They need to know they can embrace their 'augmented partner' role rather than being fearful of it. They need to know they can create new career paths for themselves – and this is where reskilling really drives this."
AI – it's a reskilling thing

The World Economic Forum (WEF) predicts 44% of workers' skills will be disrupted between 2023 and 2028—up nine percentage points from its last five-year projection

By 2030, employment is projected to fall by 1.6 million for clerks, 830,000 for retail associates, 710,000 for administrative assistants and 630,000 for cashiers. All those jobs involve repetitive tasks that could be replaced by automation.