SHRM is once again at the center of a controversy this time over its partnership with Koch Industries owned by the politically active billionaires Charles and David Koch.
Last week, SHRM announced Getting Talent Back to Work, an initiative to encourage American businesses to hire individuals with a criminal background.
"This is a group we, as business leaders, cannot afford to overlook as 1 in 3 adults in the United States currently has a criminal background," SHRM CEO Johnny Taylor in a press release on Jan. 27. "Not only is it the right thing to do — to give a deserving person a second chance — but it is becoming imperative as businesses continue to experience recruiting difficulty at an alarming rate."
While the issue is one that has been championed by many HR professionals, and tends not to itself be politically charged, it was SHRM's research collaboration with the Charles Koch Institute and the announcement suggesting a close association with the privately-held Koch Industries conglomerate that prompted an immediate response from a number of SHRM members who follow the #fixitSHRM Twitter hashtag.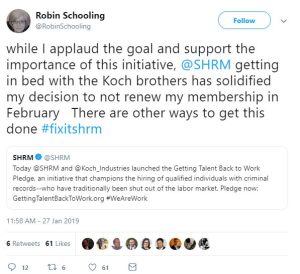 Robin Schooling, SPHR, SHRM-SCP, a senior HR leader and consultant, writer and speaker, tweeted: "while I applaud the goal and support the importance of this initiative, @SHRM getting in bed with the Koch brothers has solidified my decision to not renew my membership in February There are other ways to get this done."
"Great initiative @SHRM, however a partnership with @Koch_Industries is a mistake! Next thing you know they'll start supporting active shooter training for the workplace instead of working towards shooting prevention," posted Kate Karre, PHR, SHRM-CP, an HR administrator.
Dozens of other posts have since appeared, most expressing similar sentiments. The controversy gained ground after it was reported by HRDive a few days after the #fixtitshrm tweets began appearing. In a statement HRDive attributed to SHRM, the organization said its decision to partner with the Kochs and other "key advocates" of the movement to hire ex-offenders was "driven by the picture: "650,000 people leave incarceration each year, but their unemployment rate is five times the national average at a time when American employers face a critical talent shortage.
"The only way to succeed in this endeavor is to remain firmly nonpartisan and work with the entities that can most effectively help us reach our goals."
The #fixitSHRM response to the statement was at least skeptical, if not downright dismissive. Citing a comment from a #SHRMLive discussion — "We need leaders to be really clear- what is the culture in your organization and what are you doing to make it better?" Mary Faulkner tweeted, "This is a good question. A number of us have asked that of #SHRM and have been met with silence. It's pretty frustrating. Your partnerships define your culture, and we have concerns."
The Koch brothers — two of the wealthiest men in the world — have long been political activists, contributing heavily to conservative and Libertarian candidates and causes. They were the founders and primary financiers for Americans for Prosperity and Freedom Partners. In recent months, as David Koch stepped back from both the business and politics, the organization has made efforts to, as the Chicago Tribune described it, rebrand. However, the newspaper said, "The conservative network remains one of the nation's most influential political forces, a conservative powerhouse simultaneously playing the long- and short-game in a way that ensures it will remain a dominant force long after President Donald Trump is gone."
The outcry over the SHRM partnership with Koch Industries is only the latest issue to be taken up by #fixitSHRM followers. Last summer the hashtag was used to condemn a White House photo op between Taylor and President Trump. Taylor was shown shaking hands at an event announcing Pledge to American Workers, a jobs training initiative. Many of those speaking out now about the Koch partnership were also sharply critical of Taylor's participation at the event.