Editor's Note: It's an annual tradition for TLNT to count down the most popular posts of the previous 12 months. We're reposting each of the top 30 articles through January 2nd. This is No. 17 of 2017. You can find the complete list here.
∼∼∼∼
With so much of our lives spent working, progressive organizations try to make the time there more comfortable. Happy employees are more productive, creative and stay in their jobs longer.
In this candidate driven job market, employers have to find ways to enhance their job offerings to be competitive for new hires. One  way is to offer an array of benefits and perks from the traditional to ones focusing more on work-life balance.
Startups and tech companies are well known for having great perks from free meals to extended maternity and paternity leave to paid days off for volunteering. Fast Company listed a few of these well-known companies and their employee perks:
Netflix offers one paid year of maternity or paternity leave to new parents
Salesforce gives employees six days of paid volunteer time off a year as well as $1,000 a year to donate to a charity of their choice
Airbnb gives its employees an annual spend of $2,000 to travel and stay in an Airbnb listing anywhere in the world
PwC offers its employees $1,200 per year for student loan reimbursement
Adobe shuts down the entire company for one week in December and one week over the summer
Twitter offers three catered meals a day, on-site acupuncture and even improv classes
What do jobseekers want?
In today's competitive job market, candidates are looking for more than just salary. They are looking for a company where they can learn new things, feel that their work is meaningful to the company and are happy.
According to a 2016 Glassdoor survey, 77% of people looking for a job value reviews and ratings from employees. Glassdoor also found  57% of people reporting that benefits and perks are among their top considerations before accepting a job. A generous benefits package is more and more important for attracting and retaining top talent.
Flexibility is a highly desired benefit
A survey by Fractl published in the Harvard Business Review examined the kind of benefits jobseekers ranked as most desirable. What the researchers found is that some of the most desirable benefits don't come with big pricetags.
As expected the survey found that the top-valued benefit (88%) was having good health, dental and vision insurance plan. These are also the benefits with the largest costs to a company.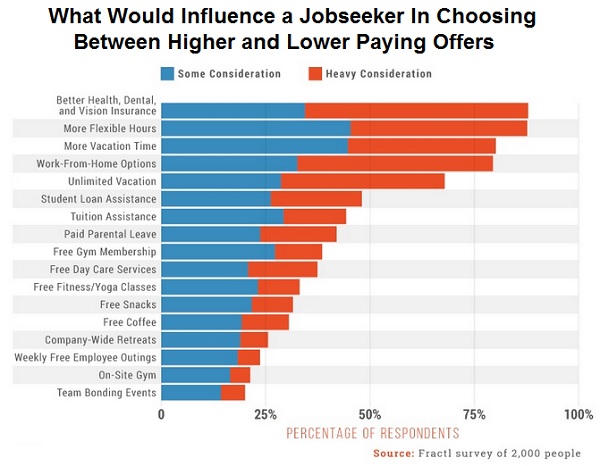 The next most valued benefits were focused on flexibility at the workplace. People value benefits that enhance work-life balance, especially those employees with families. These include flexible hours, work from home options, more vacation time and even unlimited vacation time. Flexible hours and work from home options are affordable perks for companies and small businesses that can't afford expensive benefit packages. They typically cost the employer next to nothing and can even save money in overhead costs.
One such benefit that is slowly getting gaining more popularity in businesses, especially start-ups, is unlimited vacation time. Every year, Americans fail to take up to three or more days of their allotted vacation time. Some, not all, employers pay out unused vacation time causing an additional expense at the end of every year (or when the employee leaves the company.) Contrary to what employers might expect, unlimited time off doesn't necessarily equal less productive employees and more time away from the office.
The next highest ranking benefit is student loan and tuition assistance. The job benefits that don't directly affect an individual's lifestyle and finances, such as free coffee, snacks and team outings, were the least coveted. However, it was interesting to find that more men are likely to choose these types of perks over women.
Overall, the survey found that providing the right mix of benefits which are both inexpensive and highly sought after by jobseekers can give a competitive edge to businesses that can't afford high salaries and pricey perks.