Is artificial intelligence really HR's friend?
Can it really speed up all those monotonous HR jobs you hate to do – you know, the ones that pull you down and stop you from doing the strategic stuff?
Better, still, can it solve some of the biggest issues some tasks still present – such as issues around perpetuating bias?
In this series we're going to start looking at different AI tools to try and answer exactly some of these questions.
Every few weeks, we're going to look at and independently review a piece of HR AI.
First, our methodology:
The process works like this:
We book a walk-through of a specific tool with an AI provider.
We get a demonstration of its capabilities.
If we want to probe them on something – asking the sorts of questions we think HR professionals want to hear – we do, and they have their opportunity to respond.
The verdict below is completely our personal assessment. It's based entirely on what we see and whether we think our questions have been satisfactorily answered. The vendor has had no input.
So who's up next?
Today we're looking at: meQilibrium's MeQ Workforce Intelligence tool.
What's its big USP? Why do some people quit but others don't? What are the signs that some employees might be reaching levels of burnout? meQilibrium's meQ Workforce Intelligence tool uses AI to sequence and present employee risk profiles based on users' answers to psychometrically validated assessment questions. The AI claims to pinpoints strengths and vulnerabilities within a company's population and enable HR to support their employee needs before they become costly problems. At the same time, meQilibrium argues that by being given access to remedial courses [delivered through its ancillary Workforce Campaigns tool] employees enjoy better growth, which in turn creates and builds a more sustainable culture of growth.
Who took us through the tool: Brad Smith, PhD,chief science officer, meQuilibrium
The context: Smith says: "People are dealing with business transformation, a more VUCA (Volatile, Uncertain, Complex and Ambiguous) landscape, and the problem is that humans are often hardwired to look at this inn the negative. This leads to stress, burnout, and the risk of elevated levels of employee turnover." He adds: "Companies can't afford to 'wait and see' what will happen. They instead need to 'see and do', and we believe this tool has the power to do this – using award-winning analytics around the science of resilience. The tool aims to help people 'before' unwanted events start to happen, but we also help identify staff at risk so they can deal with adversity better. People already using our tool are enjoying 18% less employee turnover."
What we saw:
meQulibrium is based on analyzing the results of a scientifically-validated 93-question assessment that is so good, it has been independently rated as being 90% correct in predicting people suffering with, or displaying the signs of depression.
The results create a 'resilience profile' that can be seen at an overall company level, or be drilled down and seen at smaller group levels. The software then determines a 'turnover risk'.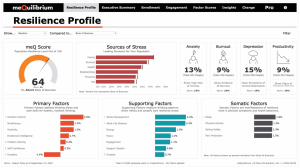 Results at an individual level aren't shown, but can be turned into a individualized learning map for employees to improve their resiliency.
In the example we are shown, we see a typical company-wide score, where we can see an overall score (out of 100), of 64 [62'ish, claims Czar is typically the average score].
But more than this, we see a breakdown (based on the answers given), about what might be the causes of this – everything from family issues; health, finances and others – and which are top-rated.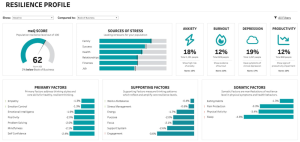 The tool actually identifies 181 factor scores subdivided across three key categories that create risk of stress and burnout. The categories are:
Primary factors (these are broken down into seven sub-categories including emotional intelligence, mindfulness, empathy and self confidence).
Supporting factors (seven further sub-categories including energy, focus, purpose and stress management).
Somatic factors (such as people's sleep, eating habits and exercise levels).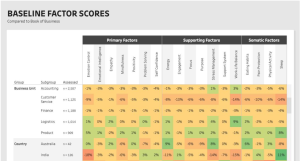 Heat maps are then created against these three categories, to create an incredibly detailed view about what risk factors apply to a specific category of employee – either by manager sub-group, age, male/female etc.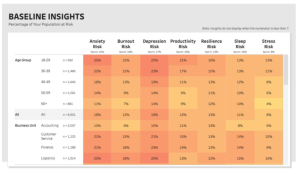 The heat maps reveal the percentage of people who have a score in top decile. Broadly, meQuilibrium says that the average you'd expect to have in each group is 10%, so a score of 15% would be high risk.
Separately to this, there are quit and burnout potential ratings – and heat maps of risk relating to the likes of anxiety, depression, productivity, resilience and stress can be seen.
In the example we are shown, there is powerful data that indicates that the organization we are looking at has a number of so-called 'actionable areas' – where a specific number of people show signs of burnout, and there is below average responses to be able to reduce stress, and mental wellbeing could be improved.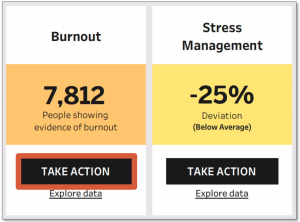 CHROs now have a roadmap of suggested learning interventions that they can point employees to, to improve their risk levels, and confront stress, and anxiety and other wellbeing factors head-on.
Initial reflections
Without doubt, organizations can see – in amazing granularity – what is directly impacting employee stress and their ability to cope.
The heat maps create a telling – if somewhat scary-looking in some instances – picture of the resiliency of an organization. But it doesn't just show this, it tells CHROs what they need to be doing, and ultimately, the tool is intended to be used with its 'Campaigns' add-on, where learning resources linked to the scores of a population of employees create a personalized antidote to what the burnout risks are showing.
It should be noted too, that the analytics can not only be scrutinized at a company level, but the data can also be benchmarked against the results of other companies in their own sector – giving CHROs a unique ability to compare and contrast how they are doing.
According to Smith, the benefit of the tool is obviously to see exactly what risks the resiliency levels employees carry bring to a business, with remedial L&D linked to it.
But it also creates a 'moment in time' picture of an organization, and the goal is to use the employee questionnaire again to see if the risk profiles have improved as a result of the learning.
Smith suggests a reassessment after 90 days' of interventions will generally demonstrate improvements in the heat maps, and by adding successive reassessments after that, CHROs will have a constantly growing pool of data to reveal which learning interventions produce the best improvements.
A dashboard will also show learning completions and prompts can be set to remind staff who haven't taken learning to do so.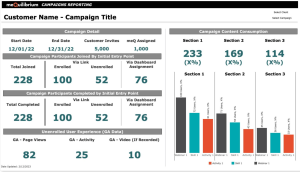 He says: "We track a RII – or Resilience Indicator Index – which looks at the four lowest scores across the piece, and overall there tends to be a 30% improvement across these scores when using the targeting interventions at the end of the first 90 days."
He adds: "The biggest improvements tend to come around stress management, where improvements of up to 95% can often be achieved."
Any reservations?
As with the Datapeople tool last time, this tools needs users to make a mental leap and accept the validity of the analytics and what the AI is doing.
In this tool, there are two assumptions that need to be made: first around the veracity of the questionnaire itself, and then the veracity of the analytics around its results.
On the questionnaire front, Smith says it has been constructed using decades-old psychometrics science, that prove (with high accuracy), that the results will be genuine.
Although the questionnaire does not dynamically change depending on how the initial tranche of questions are answered, Smith says the wording of the questions is carefully chosen so that the results won't be skewed by an employee simply answering them at the 'wrong time' (ie after having a particularly stressful day, or enduring a particularly enervating meeting).
Because burnout is complex, and has many contributing factors, he also says the questions filter out some outlying factors (ie the fact some people are just naturally more resilient that others), that could also impact the results.
Conclusions
It's probably fair to say that when organizations start suffering from employee burnout (and indeed when they first notice it – which can be some time later), the damage has already done.
By then, any remedies used to overcome it will take a lot longer than is desirable.
What this tool aims to do is identify the warning signs early enough along the road to actually prevent burnout from happening.
It's a bold aim. But because this tool is a marriage of old-school psychometrics and modern AI, the opportunity organizations have for really visualizing their risks (and being able to do something about it before it's too late), is enticing.
The best thing about this tool is that even if there is skepticism about the methodology, the methodology stays constant, and so users are at least comparing apples with apples each time they ask users to answer the questionnaire.
This means that improvements (or not) will genuinely show up (or not!)
The route meQuilibrium wants users to go down is the learning elements that are suggested based on the scores, so to some degree, the tool requires buying into the learning solutions offered too, as revealing the hotspots for action will only tell CHROs so much.
Some HR academics will argue that giving staff the tools to become more resilient can be a bit of a cop-out – because here, you're just fixing employees' response to a poor organizational culture rather than fixing the culture itself.
CHROs looking at this solution may need to reflect on this.
But that being so, the tool does at least create a 'see, act, and evaluate' approach to analyzing employee resilience and burnout. And it takes breaking down burnout into more manageable constituent parts much further than other solutions.
In doing all this, what this tool certainly encourages is a deeper look into the root causes of burnout and the risk this has to employee turnover. It wants action to be taken before it's too late.
Ultimately, that has to be a good thing.