Editor's Note: It's an annual tradition for TLNT to count down the most popular posts of the previous 12 months. We're reposting each of the top 30 articles through January 2nd. This is No. 30 of the 800 articles posted in 2018. You can find the complete list here.
∼∼∼∼
What in years past would have been considered a benign ceremony at which SHRM signed on to a new White House training initiative, has turned into a Twitter contretemps over the symbolism of the HR organization's participation.
"HR professionals supposedly stand up for individual worth and dignity. If we speak FOR people, shouldn't we be AGAINST those who would degrade and demean so many?" tweeted Mary Faulkner, a SHRM member and HR director from Denver.
On #SHRMPress under a picture of a smiling SHRM CEO Johnny Taylor shaking President Trump's hand, Kara Aley commented, "Did you ask him how employers are supposed to focus on diversity inclusion when he's all about tearing down affirmative action and is pro white supremacy. As an HR leader from a large US employer I'd like to hear your response."
The event was a White House photo op Thursday at which several business and organization executives, including SHRM's Taylor, signed a Pledge to American Workers promising to train workers. SHRM promised to train 127,000 HR professionals through the SHRM-CP and SHRM-SCP certification programs over the next five years.  It followed the signing by Trump of an executive order creating a National Council for the American Worker. The council comprised of senior administration officials is supposed to come up with a strategy for training and retraining the workers needed across high-demand industries.
Within hours of the event, the SHRM press office posted a note on Facebook and sent multiple tweets extolling the initiative and SHRM's participation. By Friday morni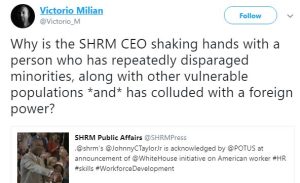 ng, dozens of replies were showing up, nearly all of them condemning Taylor's presence as a sign of agreement with all the Administration stands for.
Victorio Milian, an HR consultant with more than 10,000 Twitter followers, was among those who took some of the sharpest exception to SHRM's involvement. Friday morning he tweeted, "In my opinion, this white supremacist Republican administration doesn't care about @shrm or the thousands of #HR pros out there. If SHRM's CEO continues to align himself with this administration, then it's safe to say that @johnnyctaylor doesn't care about us, either."
Not everyone objected to SHRM's participation, though those supporting Taylor were few. Omari J. Faulkner tweeted, "Everything should NOT be taken out of context and morphed into a political weapon. Enough already! @JohnnyCTaylorJr should not be attacked and expected to explain anything. #HRTribe #SHRM #USA.
Some also complained about SHRM's training pledge. In a Facebook posting, Sara Neu wrote: "SHRM is part of the problem when it sells ridiculously expensive prep courses and expensive tests in order to get ahead. Make your exams and prep materials more accessible to people who aren't already making a lot of money and then I'll listen to what you have to say."
SHRM's press office was emailed asking for a response. I'll update this post when I hear back.