What's going on amongst DEI heads?
If you haven't been following the world of diversity, equality and inclusion closely, you might well have missed that this spring/summer has not been a good one for the longevity of DEI officers.
There has been something an exodus of big name diversity chiefs from some of America's leading companies – and people are starting to wonder why.
What started as a small and understandable trickle [everyone's allowed to move on, right?], has turned into a flood of exits.
Last year Nike lost its second DEI head in three years, after Felicia Mayo – who also had a similar role at Tesla – quit. But this year, in Hollywood alone we've seen the departure of a raft of big names – the likes of Karen Horne, senior vice president of North America DEI at Warner Bros; Jeanell English, executive vice president of impact and inclusion at the Academy of Motion Pictures Arts and Sciences; Vernā Myers, Netflix's first head of inclusion.
In June Latondra Newton, Disney's chief diversity officer  (CDO) and senior vice president, also departed her post – under something of a cloud (see later) – plus these aren't the only ones:
 Who else quit?
Gucci's first global head of diversity, equity and inclusion Renée Tirado resigned in 2020 after just one year
Uber diversity chief Bo Young Lee recently took a leave of absence
Last November, Jarvis Sam left the role after just five months. He was the third diversity head to exit the brand in three years.
Zoom hired a chief diversity officer in 2020, but by 2022 the role was vacant and remains open now.
Pinterest has had three DEI leads in the last four years.
Apple hired its first diversity leader in 2017 and has had three diversity leaders since then.
So why the sudden wave of resignations, and why now?
Tenure low, turnover high
Commentators now agree there is certainly something in the water – and increasingly it's now being backed up with real data.
Recent research suggests 60% of chief diversity officers (or CDOs) at S&P 500 companies left their jobs between 2018-2021 alone.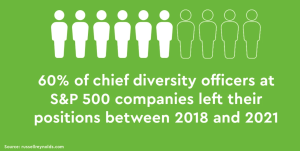 This data – from executive search firm Russell Reynolds – also revealed that average tenure of chief diversity officers decreased from 3.1 to 1.8 years in 2021 – that's less than the ever-shortening tenure of the average CEO, and far less than other high profile executive-level positions.
Too many, too quickly?
One suspicion is that there was an large, and very obvious explosion of new DEI roles created – precipitated in the aftermath of the George Floyd/racial justice movement in 2020 – but there has not been a parallel expansion in acceptance of their remit by other C-suite exectives.
It's certainly the case that at least 60 public companies appointed their first-ever diversity leader after 2020, according to Russell Reynolds Associates – companies including the likes of PVH Corp (parent company of Calvin Klein and Tommy Hilfiger), as well as VF Corp., owner of Vans and The North Face. These were all among the companies that announced their first new executive DEI roles.
It's also the case that what Forbes called the "DEI Goldrush of 2020-21" has dramatically cooled.
In stark contrast to 168.9% increase in hires in chief diversity and inclusion officers between 2019-2021, hiring for this position actually fell during 2022 (by 4.5% according to LinkedIn) even as other executive roles grew.
Are CDOs simply being 'set up to fail?'
But perhaps the biggest suspicion is that companies are struggling to accommodate or 'get' what their DEI heads are trying to do. This is revealed by recent analysis revealing chief diversity officers have been more vulnerable to layoffs than their HR counterparts – experiencing 40% higher turnover.
Meanwhile, the number of CDO searches is down 75% in the past year, according to Hanold Associates Executive Search.
As Monster has also found, 11% of firms it questioned said DEI programs "are among the first to go when they are forced to cut costs."
All these startling statistics have led to Forbes – which disparagingly describes DEI a merely "a trend" – to question whether DEI heads have simply been set up to fail.
The suggestion is that many are simply leaving because they're bashing their heads against a brick wall, and not getting the support they feel they need or the recognition they deserve.
CDOs certainly lack support:
According to Chandra Robinson, who director in the Human Resources practice within Gartner's Research & Advisory division, DEI heads/CDOs are certainly struggling to gain board-level acceptance.
Speaking to TLNT she says: "Our own research finds 51% of DEI heads say they feel they lack ownership for the outcomes they are responsible for."
She adds: "Tenure is undoubtedly linked to the extent CDOs are given authority to drive DEI outcomes. While there was a big drive in 2020 to demonstrate that change would be happening, but this isn't being backed up by being given resources to make this happen."
She says: "We know that most organizations have few people able to entirely devote themselves to DEI – with (40%) most having just 0-2 people fully working on this." (see below).
In its 2022 Gartner HR survey, 70% of DEI leaders agreed that senior leaders were the most critical stakeholders to an organization's DEI strategy, yet many DEI leaders also reported having to continuously coach their business leaders on why DEI matters, how it aligns with company goals, or why it's critical for long-term success – something that must become an enervating experience over time. And – by their own admission, it's influencing skills many CDOs claim they need to get senior board-level buy-in (skills which they are perhaps lacking).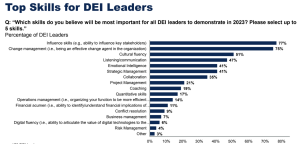 Source: 2023 Diversity, Equity and Inclusion Functional Benchmarking Report
And then there's the suggestion that disinterested CEOs may want change far too quickly for CDOs to deliver.
Robinson says: "While we, in the world of DEI, can understand that many CDOs/heads of DEI are only just starting to get up to speed with many of their initiatives, business leaders aren't satisfied with what they see as slow progress."
Statistics do back this up. Gartner's recently published 2023 Diversity, Equity and Inclusion Functional Benchmarking Report finds most DEI heads (28%), have only been in their current role for between one-two years – meaning they are unlikely to have really gotten to grips with the issues organizations face.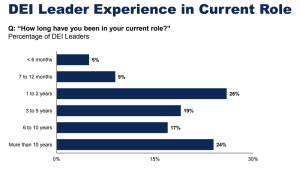 She adds: "In a sense, there's undue pressure to deliver, and for the role of DEI head to mature more quickly than is possible. Cultural change takes time."
Has DEI got too political?
So are CDOs just not being given the time (and resources) they need to prove themselves – which is fuelling souring internal relations?
Robinson says she doesn't want to generalize this widely, but accepts leaders are "not positioning their DEI" as clearly and prominently as their DEI heads might want them too.
She says: "Many of the people I see working in this space understand there is a people and a business imperative, and that they can't do this job without being an optimist. But organizations do need to address what it is that is causing DEI heads to leave."
But let's not forget also, that with additional scrutiny around the position of CDO (especially since the Supreme Court struck down affirmative action companies were taking), there is an growing acceptance that DEI work has now also become a political target.
One of the most recent high-profile exits was that of Disney's chief diversity officer Latondra Newton in June – reportedly centered around backlash at so-called 'woke' policies the company was attempting to adopt – things like doing away with the traditions "Ladies and gentlemen, boys and girls" greetings at its theme parks, as well as having gender-neutral job titles.
During Newton's tenure at the company (which was actually a lengthy six years), Disney began introducing gay, lesbian, transgender, non-binary, and other minority characters into its animated series and films. Several reports claim she mutually agreed to leave the business after the box-office failures of movies like 'The Little Mermaid' and 'Lightyear' – films that controversially (in some quarters), featured a black mermaid and a same sex couple kissing respectively.
In May this year an Axios and Harris Poll survey revealed Disney's reputation has suffered as a result of its wading into polarizing topics including transgender and sexual identity issues. It ranked Disney as the fifth most polarizing company.
So what is the future of the head of DEI/CDO role?
So is the number up for DEI heads?
Despite the obstacles that seemingly lie in many DEI heads' way, Robinson says she is not yet despondent.
"Most DEI heads are passionate about what they do, and they're committed to creating equal experiences for all. In most organizations I do think people will stay the course. Some will naturally walk away – but as a line of work, I do feel it's something people feel commitment to."
She adds: "Given recent developments and the fact many organizations have moved beyond the initial stages of DEI implementation – where they strive to integrate it throughout the business beyond HR – DEI is likely to undergo a transformation over time."
She continues: "It may become less overtly emphasized or communicated, as it transitions from being a focal point for generating buy-in or reaffirming the organizations commitment. This transformation could also encompass changes such as adapting the DEI acronym, restructuring the DEI reporting function, and/or integrating DEI with other HR functions like employee experience, people or culture roles."
SPOTLIGHT: Budgets are actually holding

According to new research of 445 HR heads by Capterra, only 8% of those with a dedicated DEI budget experienced any reductions this year, and a majority (65%) said their budget increased.

Some 58% of HR leaders in our survey say their company is prioritizing DEI more in 2023 than they have in year's past

However, 86% of HR leaders agreed that the Supreme Court's recent decision now puts more pressure on employers to improve and monitor DEI.

HR heads are also worried:

– Only 30% of HR leaders believe that DEI initiatives are secure during an economic downturn
–