Editor's Note: It's an annual tradition for TLNT to count down the most popular posts of the previous 12 months. We're reposting each of the top 30 articles through January 2nd. This is No. 6 of 2017. You can find the complete list here.
∼∼∼∼
If you are a reader of inspirational management books, an HR professional, or basically have ever been an employee at just about any company anywhere, you've heard the platitudes:
Our people are our greatest asset.
We believe that talent is a competitive advantage.
At [company name], we put employees first.
Some employers naturally do better than others at following through on such lofty claims. For others, however, lip service is about as far as their employee-centric philosophy goes.
Their reality is about to change. If it hasn't already. And for a long time to come.
Shifting demographics, changes in consumer demand and growing global competition have set the stage for a fierce battle over the talents of the American worker – one that's expected to rage for the next two decades.
The fallout? Higher costs, increased turnover, fewer qualified candidates and loss of institutional knowledge – just to name a few.
The following is a deeper dive into the factors surrounding this emerging tug-of-war for talent, along with a look at select U.S. industries that are likely to suffer worst. Plus, we'll look at business practices that smart employers are now adopting in anticipation of looming labor shortages in the not-so-distant future.
Factor #1: Unemployment rates already near historic lows
Before reviewing the trends likely to drive up competition for American workers, it's important to note the U.S. labor market already finds itself in an uncomfortably tight squeeze.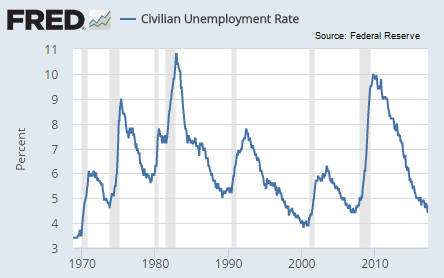 The monthly unemployment rate – which has dropped steadily since the Great Recession of 2008 – recently reached a 10-year low of 4.3% in May (up slightly to 4.4% in June). That number is below what the Federal Reserve considers to be the "natural rate" of unemployment (between 4.7% and 5.8%), putting the U.S. labor market not just at full employment but at the beginnings of a potential labor drought. In fact, the unemployment rate only needs to shrink by another 0.5% to reach its lowest point in almost 50 years.
Factor #2: Job creation growing 2x faster than labor pool
Anyone keeping watch on the economy knows that the U.S. engine of growth (as measured by GDP) has hummed along steadily for the past several years, averaging just under 4% annually for most years since 2010. As one would expect, new job creation has grown right along with it, adding an average of 2.2 million jobs each year to American payrolls over the same period.
However, the United States – like other developed nations – has seen a steady decline in the birth rate and net population growth over the last century. At present, the total U.S. population is growing at an annual pace of less than seven-tenths of 1% — barely enough to cover the growth of all new jobs even if every new baby could be immediately put to work.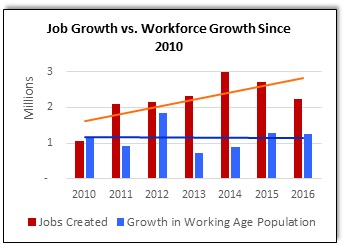 More importantly (and more disconcerting) is the projected growth of the working age population, which counts the number of Americans between the ages 15-64. This measure of the potential labor force represents approximately two-thirds of the overall population and, at present, is expanding by only a little over 1 million workers each year.
That means for every new worker now entering the labor force, two new jobs are waiting to be filled. If the economy continues growing anywhere near its current rate, the market will easily absorb newly available labor resources and drive down the unemployment rate, likely to levels not seen since the 1960s.
Factor #3: Every day, 10,000 baby boomers retire

Just as employers are growing increasingly thirsty for workers, the U.S. labor pool is evaporating at a rate of 10,000 retirees a day. This comes as the first wave of baby boomers – Americans born during the surge of population growth following World War II – reaches retirement age.
Some early boomers who began turning 70 in 2016 actually delayed their retirement, waiting to regain the nest-egg losses they suffered during the selloff of the Great Recession. Now, with the market returning to full strength and a quarter of the country's 79 million baby boomers reaching 65, a phalanx of older Americans are calling it a career in record numbers.
In fact, according to The Conference Board, "retiring Baby Boomers are vacating jobs faster than young workers can replace them, especially in occupations that employed a large number of men and women who came of age in the 1950s and 1960s, such as the skilled trades, manufacturing and health care."
Making the mass exodus worse is the wisdom and experience lost by employers in the process.
Factor #4: The surge in retirees will subsequently drive demand for service workers
Complicating an already dismal outlook is how the aging of America not only removes laborers from the market but also increases the need for service workers to care for them.
For example, job search portal CareerCast identified nursing as having the most job openings of all careers, projecting the need for 440,000 additional workers by 2024.
"Health care is the 800-pound gorilla of the labor market today," says Andrew Chamberlain, chief economist at Glassdoor. "As Baby Boomers age and demand more health care than ever, we'll likely continue to see nursing roles remain in high demand."
And it's not just in nursing where shortages are being felt. Chamberlain estimates that one in every 5 job openings in America will be in the healthcare field. Home health aides, physical and occupational therapists, and medical assistants are just a few of the positions anticipated to be in the greatest demand.
Factor #5: Past sources of "overflow labor" already tapped
Don't expect any help from the stay-at-home types who often serve as a labor pool buffer. Why not? Because historically speaking, this reserve has been tapped already.
The prime age employment-to-population ratio (EPOP) is frequently used by economists and historians to gauge overall levels of labor participation at any given time. It measures the share of the core working-age population (ages 25-54) that is either already working or actively looking for work.
Those outside of the prime-age EPOP are working-age Americans that have chosen not to participate in the labor force – such as stay-at-home caregivers, disabled individuals, students, or anyone with access to means not requiring ongoing employment income.
In the decades following World War II, prime-age EPOP ranged consistently between 60% and 70%. After 1975, as a greater percentage of women joined the workforce, it grew to exceed 75% – reaching historic highs of 80+ percent for a brief period during the dot-com boom of the late 1990s. At 78%, America's current prime-age EPOP is approaching previous all-time highs.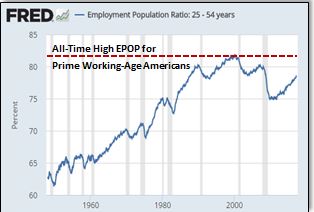 It is a major reason that many economists and business leaders favor immigration-friendly policies. For example, in the construction industry where job openings stand at a 10-year high, the pace of home-building has been curtailed.
Stephen Sandherr, Chief Executive Officer of the Associated General Contractors of America Association, recently called the workforce situation the single most pressing issue facing his members. "You have a significant percentage of the industry that are foreign-born or may have come here illegally… We need to have some type of legal status for these people."
The impact on employers
What does this mean to the businesses and HR departments responsible for keeping their organizations staffed with top performers? Times are likely to get tougher for talent acquisition, as the strategic necessity of employee retention becomes increasingly urgent.
Here's what they can expect:
Higher compensation costs
Economic projections from multiple sources foresee an extended period of upward pressure on wages and salaries. One such source, the Congressional Budget Office, reported in February 2017 "as slack diminishes and firms must compete harder for a shrinking pool of unemployed or underemployed workers… [we estimate] that the employment cost index for workers in private industry will grow by more than 3 percent per year, on average, over the next several years, up from the 2 percent average from 2010 through 2015."
Increasing employee turnover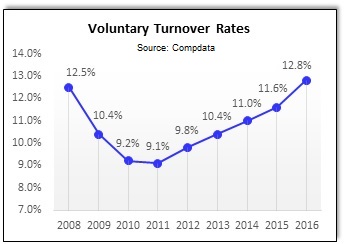 In the overheated, pre-recession economy of 2008, soaring job growth led to a nationwide bidding war for talent, driving up voluntary employee turnover rates in the process. Such rates have returned from their recessionary lows and are now higher than in 2008. The impact is crippling for many employers. Josh Bersin estimates the total cost of losing an employee – which includes such factors as lost productivity, knowledge drain, and company morale – at a stunning 1.5 to 2.0 times the employee's annual salary.
Longer hiring cycles
At an average 27.6 business days per position, the lag time between posting new jobs and getting them filled is already well above pre-recession levels and approaching its highest mark since the turn of the century. With nearly twice as many positions available as there are workers to fill them, recruiting workloads and candidate searches are almost certain to lengthen even further.
Fewer qualified workers and higher training costs
Some employers will be forced to hire less-qualified candidates, whose work histories are questionable, and whose education qualifications are lacking. As a result, ramping up new employees to peak productivity will likely take longer, while investments in on-the-job training will almost certainly increase. Industries like construction and manufacturing will be most impacted as lack of safety preparedness can have devastating and costly results.
How you can win the war
If there's good news to be found in this data, it's that visionary human resource professionals are set to play a decisive role in the future competitive advantage of their organizations.
Below are some staffing strategies to consider:
Bracing for the battle ahead
Whether you choose to ignore or embrace the coming "quest for the best," the time to take notice is now. Your competition is no longer just the other power providers in your industry battling over market share. It includes all the well-funded, rapidly growing organizations now swimming in a search for talent in your local labor pool.
To win this battle, your best bet is to start paying mind to those platitudes. Put employees first. Treat them like your greatest asset. Engage your existing employees and create an environment where they will indeed thrive. Do that and you'll find yourself with the best weapon in the war for talent – a place where the best and brightest people want to be.