It's unavoidable that artificial intelligence (AI) will have a permanent place in our future.
It's already changing the way we live and work.
Only recently, for example, ChatGPT showed up in my Instagram Reels, promoting a ClassPass workout schedule for the week based on content I'd already looked at.
This is just one example where – if used intentionally – AI can support better life practices.
It's when you break it down into benefits like this, that I believe AI has the potential to vastly improve the way employees 'do' and 'experience' work.
So how can AI become HR's friend, rather than foe?
How can it be an aid and not a threat?
AI can embolden us
While it's increasingly becoming ubiquitous, AI shouldn't replace the professionals who own employee experience. But it can (and should!) embolden us all as leaders.
AI can expand our creative horizons, amplify our imaginations and act as a new tool – one that's no different to Photoshop, a calculator or Office 365.
We already know that generative AI also aims to remove the burden of the more mundane and time-consuming tasks, leaving more time for strategic thinking and the development of creative and buzzworthy ideas that resonate and increase impact.
But what of this in more detail?
The best way AI can enhance and embolden our lives is arguably through the employee experience.
Here are three ways HR leaders and communicators can use AI across the employee experience – including which AI tools can best help for each:
Improving search: Attraction
 College career fairs; LinkedIn posts; job descriptions; recruitment channels; career websites – and the list goes on. Finding – and attracting – potentially perfect candidates is the first stage in any employee journey.
But smart companies can deploy AI applicant tracking systems and AI job search tools to more effectively ensure that a preliminary slate of candidates is identified based on skill and experience and not influenced by unconscious biases.
AI can also help recruiters and hiring managers understand outside-in perceptions of a company – including what potential talent may be reading, seeing or hearing about the organization.
The way to understand and anticipate your audience is to understand the narrative being perpetuated about the company.
For example, how is your organization showing up on Glassdoor? What are the comments on LinkedIn, Twitter, Facebook or Instagram? Or in professional groups, Fishbowl and Blind? Or in the newsfeeds of your target talent? And what are the explicit and more subtle stories these sources are telling about your brand? There is so much information out there and part of the battle is understanding what is influencing potential candidates' perceptions versus what is just chatter.
Our agency partners with Blackbird.AI to precisely try and de-code all of this.
Armed with better information, communicators and HR practitioners can then identify opportunities to stand out, where to lean-in and what might need to change in the pursuit of attracting the best in the business.
This is the way HRDs build a resonant employee experience and culture in 2023.
Enhancing experience: Engagement
From the moment a new hire walks through the (virtual or physical) door on day one, there are myriad opportunities to engage them. Here, HR and communicators play a critical role in advancing inclusion and belonging.
This is where Opinionate and Perplexity could come in.
Opinionate allows users to enter a topic for AI to debate and it should be considered an asset for strategic communicators looking to inject creativity into, or prepare against possible push back on a planned content piece.
Perplexity allows users to quickly find sources and research around a particular topic and can be helpful to ensuring a holistic viewpoint and considering new perspectives.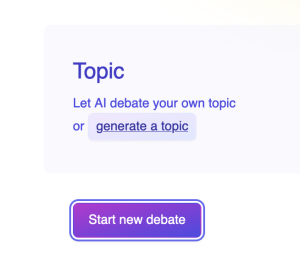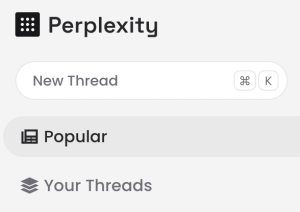 Several AI tools exist to help reduce barriers to creativity and to package important content in ways people prefer to consume it (shorter and more visually).
For instance: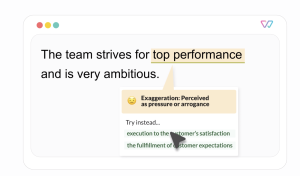 Unlocking growth: Contribution
How can AI empower us to actually be more human? Well, consider growth and development.
Peer to peer engagement is likely the most effective form of learning – but how much of our day gets bogged down in the mundane, leaving us to reschedule those 1:1s and mentor sessions, coffee chats and networking connects?
AI can help streamline routine duties in the same way it can help to uncover areas for growth. A first step? A meeting productivity AI called tl;dv.
Meeting productivity apps should be in every leader's toolbox, empowering them to spend more time building big ideas and guiding teams and direct reports and less on finding content to cascade or worse – administrative tasks such as capturing and synthesizing notes.
tl;dv (below) goes beyond other AI note-taker and virtual assistant apps in the marketplace, allowing for shared video clips from work sessions or Town Halls or even leader recordings in a click.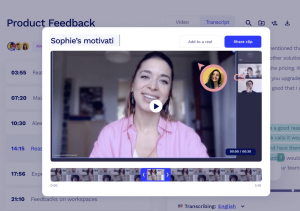 These lower-effort/higher impact micro-learnings enhance the impact of communicators and HR leaders, unlocking new levels of efficiency and productivity while elevating leader voices and visibility.
A final thought…
For all its hype, we all need to remember that the ultimate benefit of integrating AI into the employee experience is to create more exposure to new ideas paired with more time and space for deep conversation.
At the same time, the biggest thing to remember is that everything coming out of a generative AI system should be edited, refined, fact-checked and polished by a human.
A human perspective is necessary to ensure an empathetic tone, or journalistic "flavor."
But just as AI continuously learns, humans using AI should also learn from each input, each press of the Enter key, each query – moving beyond "copy and paste" and towards understanding, interpreting and applying the guidance not just in this moment, but in every moment.
For forward-thinking communicators and HR leaders, the upside of AI should be clear: while there are always risks with new tools, the potential to – responsibly – expand and extend our collective imagination offered by AI is unprecedented.