I took a trip down memory lane this week, a place that is still safe to traverse even while sheltering in place. I was an HR professional during the last recession and I was not in a good place physically or mentally. After laying off people for months, losing my HR job felt like a gift. It was also the beginning of the second phase of my career, one that I am pleasantly still engrossed with after more than a decade.
The reason I bring this up now is that these are trying times for HR leaders. The health and economic fallout from this event are being realized in real-time. There are going to be difficult days ahead. I don't think there's any reason to sugar coat it, either.
But, there's also a place for optimism. Your best is good enough. Even just being a steady hand in a time of crisis is a gift. The HR professionals I've talked to over the last several weeks are doing their best to help people. They are a source of stability, even if they personally and professionally feel uneasy.
In good times, it's easy to talk about culture, equity, and values. There's a limited tradeoff to being committed to them. In tough times, when difficult decisions need to be made, it is when talk turns to action. So far, I see many HR leaders making those calls in the best way they can.
At TLNT, we'll continue to cover COVID-19. We now have dedicated sections available on the front page for COVID-19, remote work, and communications topics for people to easily explore. If you missed our resource compilation from last week, it's still just as valuable now.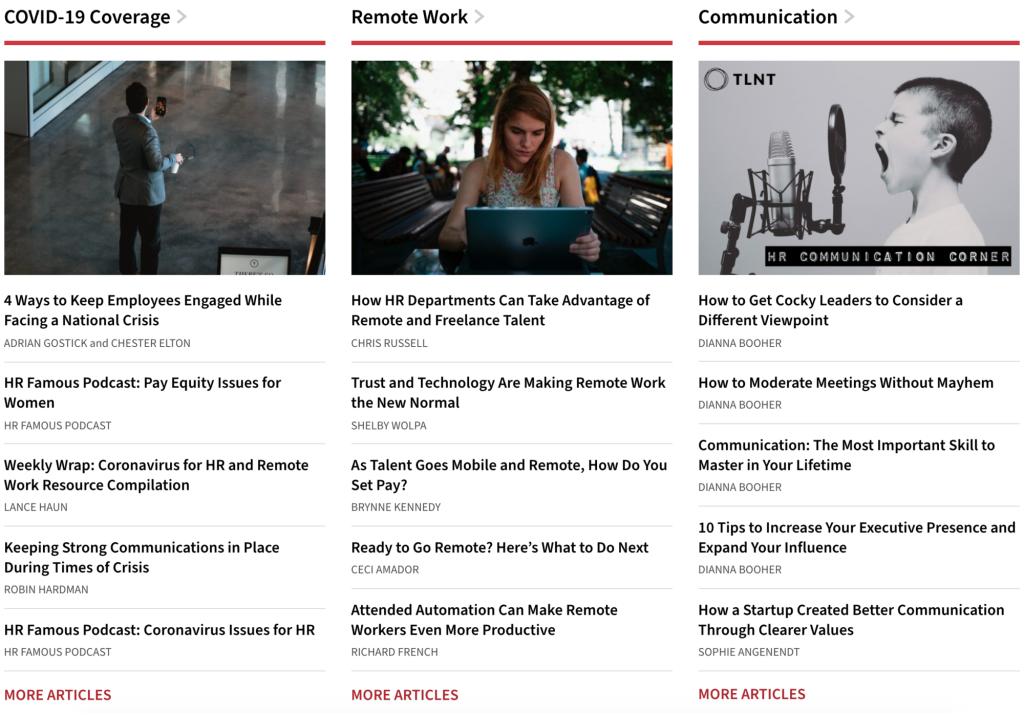 In addition to COVID-19's impact on the workplace, we'll also continue covering the types of topics we always do. What I've heard is that HR leaders still need practical, everyday guidance for HR issues that aren't strictly related to the current pandemic.
As always, we'll try to cover these issues with stories and coverage that are fact-based and sensitive of the current situation. If you have any concerns or would like to see something here you aren't getting, please reach out to me directly at lance@tlnt.com.
Quick Hits
54% of employees fear layoffs due to COVID-19. Among the white-collar professions surveyed, advertising seems to be most worried about potential impacts. [Fishbowl]
COVID related expenses are already starting to hit organizations. The top expenses? Trip cancelation fees, followed by remote work expenses and masks. [AppZen]
More than 60% of executives are being more mindful of their communication and 47% say they are focused on supporting their team as a top priority. I wonder what the rest of these leaders are doing? [Medium]
Ipsos data shared with TLNT this week showed that 19% reported their mental health had gotten a little worse and 29% of respondents reported their emotional well-being as worse when reflecting on the past week. Another week with kids at home and news overload might not help those numbers.
In better late than never news, WebMD has acquired StayWell. StayWell will operate as an independent subsidiary. [PR Newswire]
Oracle Taleo still leads applicant tracking systems among the global top 500 companies, followed by in-house developed systems, Workday Recruiting, and SAP SuccessFactors. [Apps Run the World]
Topia acquired business travel technology Monaeo. Probably not a bad time to bring these two together. [Topia]
Boomers say, "No touching" at work. A new survey showed that Boomers nearly avoided all physical contact with the opposite gender at work while 7% of Gen Xers will slap people on the butt. Seems inappropriate, but please at least wash your hands after. [Reflektive]
Name and Shame
While many organizations that serve HR have pulled all the stops out to try to make life easier, one isn't. SHRM, the self-proclaimed "Voice of All Things Work," has locked out non-members from accessing many of their online resources applicable to COVID-19 response in the workplace.
An open letter to @SHRM:

Now is not the time to restrict resources. Now is the time to support all HR practitioners regardless of membership.

Please, for the benefit of all, ungate your #CoronavirusHR resources. We need your help. #SHRM #HR #Coronavirus #COVIDー19 pic.twitter.com/8G7JDXcDiT

— Lars Schmidt 🪩 (@Lars) March 17, 2020
As news organizations and similar membership organizations like CIPD in the U.K. have worked to make many of their resources free, SHRM has so far resisted. In a world where a number of organizations are defying federal and state guidance on staying open, including companies like GameStop who are trying to define themselves as essential retail, the time to do the right thing is now.
It's hard to imagine how gating valuable resources serves the interests of their membership or the industry. At the very least, it strains the credibility of their claim to speak all things work when it seems like they are more focused on selling memberships.
I'll update this story if SHRM responds or changes its gating of these resources.
The weekly wrap is where TLNT shares the stories that didn't quite make it into a full post this week. We'll also share links to some of our favorite things we read this week about HR, people development, the future of work, and more.