Editor's Note: It's an annual tradition for TLNT to count down the most popular posts of the previous 12 months. We're reposting each of the top 30 articles through January 2nd. This is No. 21 of the 800 articles posted in 2018. You can find the complete list here.
∼∼∼∼
What industry sector has the highest turnover? Turns out that last year it was tech. And not all tech, but the sector where companies are perpetually scrambling to find people to hire, which means tech software.
That's what LinkedIn discovered in its annual analysis of its members' profile data. The company blogged about it this morning. Seems it's the first time in years that the tech sector beat out retail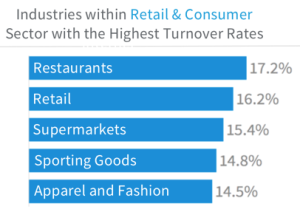 & consumer products for the top spot in the turnover rankings. As LinkedIn reports, 13.2% of tech software workers quit their employer last year versus retail which came in at 13%.
For years, retail's had a hard time holding onto workers, especially since e-commerce took off and the majors began closing stores all over the country. When you drill down into the sector to look exclusively at retail, as LinkedIn did, you discover that industry has a 16.2% turnover rate. Floor personnel, the retail salesperson you can never find when you want one, were leaving at a rate of nearly one-in-five during the year, putting them at the top of the sector list. What's just a little surprising about that is the turnover rate among what LinkedIn calls "food service professionals" and everyone else calls servers, greeters, cooks and the like is 17.6%. Seems low when you consider the fast casual dining part of the restaurant industry alone experiences turnover as high as 70% , but then these workers tend not to report that on their LI profiles.
As LinkedIn says, "The (retail) industry traditionally sees high attrition, and with the rise of e-commerce and the decline of brick-and-mortar storefronts, companies need far fewer people on the floors. Many former salespeople have to find completely new careers: only 35% of people leaving jobs in retail stay within the sector, according to our data."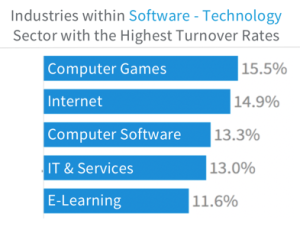 The explanation for turnover in the software industry comes from the opposite end. Instead of fewer jobs, there's more than can be easily filled and the demand is increasing all the time. That's led companies to compete for workers by offering a range of traditional and unique perks, as well as compensation that is far above the national average. Within the software sector, LinkedIn says the highest turnover — 23.3% last year — was among user experience and design professionals. With the average pay in San Francisco for these professionals at $106,000, and jumping ship can get a worker around a 10% pay hike, is it any surprise the turnover rate is so high? It's also tech's fastest growing field.
The LinkedIn blog post tries to be helpful by letting us know why people quit their jobs. Turns out that a TLNT article by Tim Sackett nailed it: people leave companies, not managers. At least not their direct managers.
LI's  survey of 10,000 people globally found that 45% quit because they lacked opportunities for advancement. Not far behind at 41% were those who left because they were unsatisfied with senior management. Just over a third were looking for more challenge and better comp and benefits. An almost solid third felt unappreciated.