Everybody knows the power of workplaces that truly are a kaleidoscopic and embracing haven.
Diversity sparks creativity, and it also creates prosperity. But it's increasingly being realized that the only way to tap into- and reach this lofty goal is by using cutting-edge technology tools.
Good AI should guarantee a fair selection process; allow HRDs to make well-informed decisions guided by data-driven insights; replace biases with fact-based criteria, and create a selection process that is more inclusive and fair.
But while all of this sounds great, how is this actually done in practice, and which AI tools are out there to help HRDs achieve this?
Well, luckily TLNT is here to help.
Here are the top five diversity-oriented recruitment software – as recently rated by G2, the a peer-to-peer review site headquartered in Chicago, Illinois.
If you haven't heard of them, it's possibly worth changing this.
All have a promise of delivering diversity and inclusion with approaches that go beyond traditional recruitment:
Greenhouse
The greenhouse is universally the top choice for recruitment software in growing businesses. It facilitates applicant exchanges, streamlines processes, promotes team involvement, and leads in providing DEI tools for fair recruitment. Tools include enabling recruiters to establish a scorecard of key attributes for success in a role to evaluate all candidates consistently and consistent systems for helping interviewers assess  skills, traits and qualifications.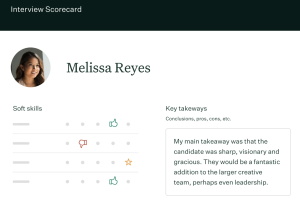 SeekOut
SeekOut aids firms in hiring, developing, and retaining exceptional employees through an employee-centric platform. As we all know, fragmented data hampers organizations' comprehension of their workforce. But SeekOut uses AI-assisted sourcing to support existing staff and identify needed talent. To find potential people all recruiters need to do is copy and paste their job description and SeekOut Assist automatically generates a targeted search, then lists the most qualified candidates for the role. SeekOut can even pull data from either (or both) job description and the candidate profile to draft a personalized message to each candidate.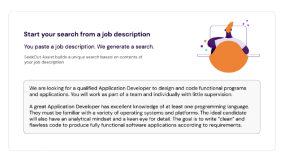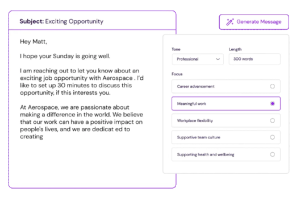 Hired
Hired consistently outperforms traditional forms of recruitment for effectively hiring tech and sales professionals. Recruiters benefit from unbiased viewpoints, DEI tools, skill evaluations, and dedicated customer success managers who them you with qualified candidates across 10,000 global enterprises, unlocking their maximum capabilities. Hired boasts algorithms that find only the right candidates, saving recruiters 45 sourcing hours per hire. It claims 30% of the people it identifies are 'not' on LinkedIn, but that 85% of people identified respond, and 60% get through the hiring interview.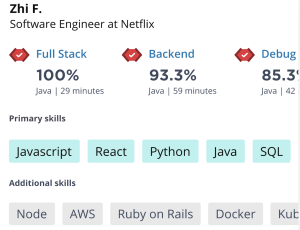 Circa
Circa offers innovative software as a solution (SaaS) for talent recruitment, retention, and personnel management. It assists organizations in improving team diversity, fostering creativity, and boosting performance, all while ensuring compliance with OFCCP regulations. It includes having guides, how-to-documents, and sample policies and templates to help foster DEI initiatives
Hackajob
Hackajob is a specialized tech job marketplace that uses machine learning and manual curation to match candidates accurately to help companies find technical expertise. With a focus on candidates, tech professionals engage in digital assessments, attend virtual events, and stay updated on industry trends.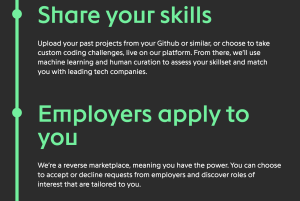 Conclusions
When companies prioritize recruiting individuals from diverse backgrounds, it brings numerous advantages
By incorporating these resources into your recruitment strategies, you can:
Expand the pool of talented individuals, giving you access to a wider range of skills and experiences.
Reduce unintentional biases in the hiring process, guaranteeing equitable and unbiased selection.
Nurture a staff with cultural awareness, creating an atmosphere that embraces diversity and honors everyone.
Boost innovation and creativity by encouraging different perspectives and ideas.
Strengthen your employer's reputation and attract highly skilled professionals from diverse backgrounds.
Propel business performance and competitiveness by harnessing the power of a diverse and inclusive workforce.
This article was produced with help from Rachelle Garcia head of the AI division of Tomedes, a leading translation company specialized in translation services, interpretation and localization.